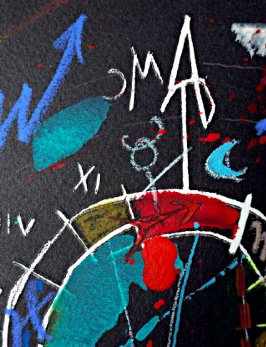 ZODIAC MIRROR®
Online schop
"Zodiac Mirror" is an unprecedented offer that combines my artistic talent with my knowledge of astrology. My way of interpreting your astrological theme, "translate"what i see and paint it.
Is a graphic translation of what the stars say about you. In Zodiac Mirror YOUR BIRTH CHART TAKES the shapes of your personality.
AN ART WORK AND PERSONAL MYTHOLOGIE that lasts and remain with you. A personalized gifth for special ocasions as births, birthdays, weddings, etc.
Zodiac Mirror is engraved using traditional technique from a contemporary perspective. Made on Vellin d'Arche paper 250gr. dimension 60 x 45cm.
Three bases to choose from
Model 1
Black base

Model 2
Black base

Model 3
Black base
Four background colors to choose from
Some examples



Example 1

Zodiac Mirror of Albert Einstein:
The mystic physicist




Example 2

Zodiac Mirror of BarakObama:
The union of the opposits.




Example 3

Zodiac Mirror of Leonardo Dicaprio:
The visual of soberness.